Conflict Studies Working Group Annual Conference
Image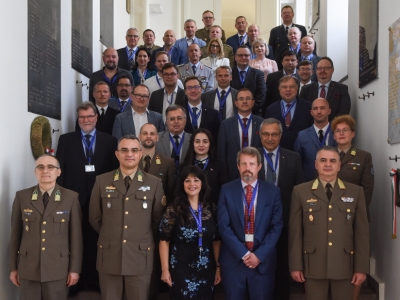 Budapest, Hungary, May 28-30, 2019 - The PfP Consortium of Defense Academies and Security Studies Institutes held the 19th Annual Conference of the Conflict Studies Working Group.  Hosted by the Hungarian National University of Public Service, in conjunction with the Hungarian Defense Forces Scientific Research Center and the Ministry of Defense, and sponsored by the Swedish Defense Academy, the conference explored "The Role of Territorial Defense Forces in Peace and War."
Representatives of the Hungarian Defense Forces referred to the challenges of  security planning 10-15 years into the future, the need to carefully allocate material resources, and the importance of successfully sustaining military human resources in order to meet future security challenges.  Meanwhile, Professor Gunnar Aselius of the Swedish Defense University emphasized the significance of using territorial defense forces during rapidly changing international and defense dynamics, which may ultimately require adjustments to national defense policies and reviews of the role of armed forces.  Dr. Carmen Rijnoveanu of the Romanian Ministry of Defense, chair of the CSWG, added, "the Conflict Studies Working Group provides historical studies that help guide policy makers, by providing examples to serve as guides during the unpredictable challenges of the future. 
The Conflict Studies Working Group gathered 37 military historians from 18 countries for this conference, in order to present 23 academic research papers on the historical use of territorial defense forces across a wide range of circumstances.  This displayed both the historical and contemporary relevance of organized territorial defense units as part of national security structures.
The conference marked 20 years of activity of the Conflict Studies Working Group, as one of the original working groups formed at the founding of the PfP Consortium.
The Conflict Studies Working Group has provided valuable historical inputs into PfPC/NATO reference curricula development, which are then used in the Defense Education Enhancement Program (DEEP).