Transatlantic Security Jam over: read-only site remains accessible
Image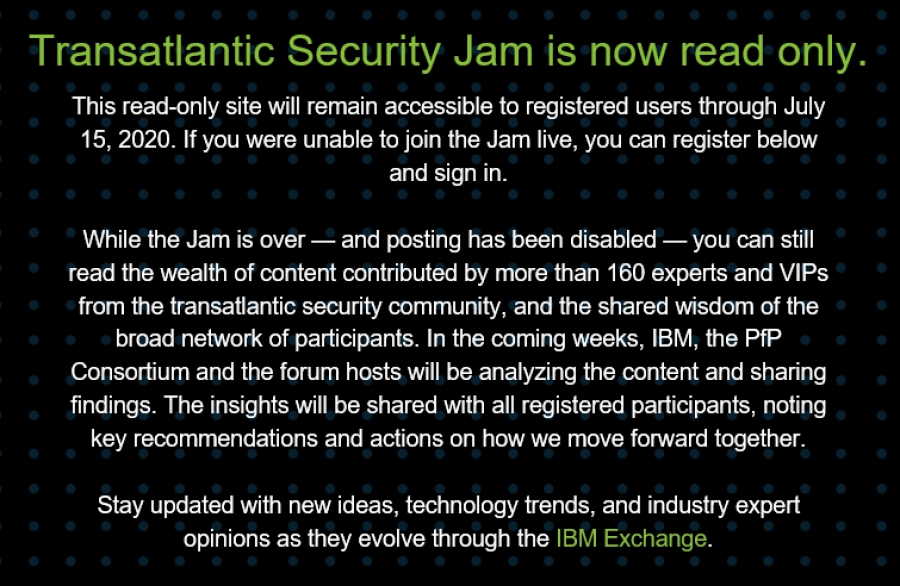 Garmisch-Partenkirchen, Germany, May 15, 2020 - The Transatlantic Security Jam (TASJ) was closed by General (ret.) Breedlove, former SACEUR, on 14 May 2020. It ran over 50 hours and included 159 VIPs. Additionally, of the 2750 registered participants, 1947 took an active role (logged in); therefore, those numbers underline the successful execution of the Jam.
The PfPC's network, together with all the other organizations/companies, played its part to extend the reach of the TASJ. Thanks to the members of PfPC's network in their support of the TASJ.
Also, many thanks to the Deputy Executive Director, Olaf Garlich, who made it possible for the PfPC to successfully support the Jam over the whole period of two and a half days.
Transatlantic Security Jam is now read only; this read-only site will remain accessible to registered users through July 15, 2020. If you were unable to join the Jam live, you can register below and sign in.
While the Jam is over — and posting has been disabled — you can still read the wealth of content contributed by more than 160 experts and VIPs from the transatlantic security community, and the shared wisdom of the broad network of participants. In the coming weeks, IBM, the PfP Consortium and the forum hosts will be analyzing the content and sharing findings. The insights will be shared with all registered participants, noting key recommendations and actions on how we move forward together.

Stay updated with new ideas, technology trends, and industry expert opinions as they evolve through the IBM Exchange.
To register click here.